Short films (over 15 minutes)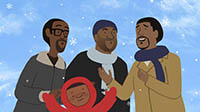 The Snowy Day
2016 - Karrot Entertainment - 59:00
Winner: Outstanding Preschool Children's Animated Program - Daytime Emmy Awards 2017
From the book by Ezra Jack Keats, this Christmas tale features the voices of Laurence Fishburne, Angela Bassett and Boyz II Men.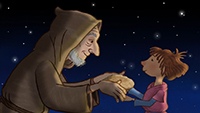 On Angel Wings
2014 - Illuminated Films - 30:00
Winner: Critics' Award - Blue Sky International Animation Festival 2015
Winner: Best Children's Short - UK Christian Film Festival 2015
Directed by Dave Unwin from the book by Michael Morpurgo, this Christmas tale features the voices of Dominic Cooper, Michael Gambon and Juliet Stevenson.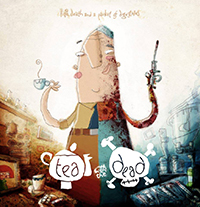 Tea With The Dead
2014 - Wiggleywoo Ltd. - 33:00
Winner: Best Animated Short - Raindance 2014
Winner: First Prize for Best Animation - RIIFF 2014
Directed by Gilly.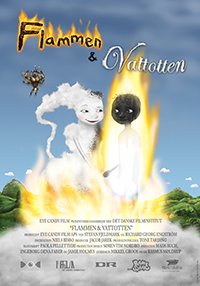 The Flame & The Cottonball
2013 - Eye Candy Film - 23:00
Directed by Niels Bisbo from a screenplay by Paola Pellettieri. Also known as Flammen & Vattotten.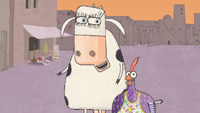 The Cow That Almost Missed Christmas
2012 - Baby Cow Animation - 28:00
Directed by Tim Searle, this was shown on the BBC as part of their Christmas line-up. It features the voice talents of Isy Suttie and Johnny Vegas.
The Secret Of The Ice Flower
2012 - Copenhagen Bombay - 27:00
Winner: Best Children's Film - Fredrikstad 2012
Winner: Audience Prize - Fredrikstad 2012
Directed by Jacob Ley, this is a combination of model sets and photographed characters, rigged and animated in CelAction2D.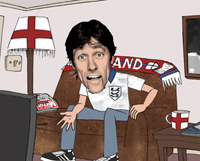 John Bishop's Football Comedy
2010 - Baby Cow Animation - 22:00
Written and performed by John Bishop, and directed by Tim Searle, this was a series of iPhone Apps that were compiled into a TV special for ITV4.
More details in this Case Study.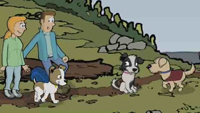 Paws On The Moors
2008 - Dennis Sisterson - 16:18
Produced as part of an initiative to get dog owners to behave more responsibly.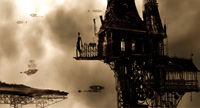 The Mysterious Geographic Explorations of Jasper Morello
2004 - 3D Films - 26:00
Winner: Yoram Gross Best Animation - Flickerfest 2005
Winner: Best Achievement in Sound - Flickerfest 2005
Winner: Best Short Film - Annecy 2005
Winner: Best Animated Short - WSFF 2005
Winner: Jury's Special Prize Professional Short Film - SICAF 2005
2nd Prize: Best Animation - Palm Springs 2005
Winner: Best Short Animation - AFI 2005
Agothic horror adventure in silhouette, directed by Anthony Lucas. It was also nominated for an Oscar in 2005 for Best Short Animation.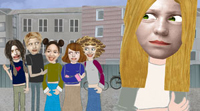 The Ones Over There And The Others
2004 - Dansk Tegnefilm 2 - 15:00
Winner: Best Animated Short - SXSW 2009
Winner: Special Mention - Odense International Film Festival 2008
a.k.a. Dem Derovre Og De Andre, this short film from Denmark was written and directed by Ziska Szemes.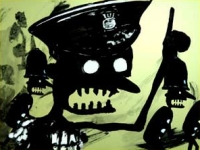 Intolerance III - The Final Solution
2004 - Phil Mulloy- 22:00
Winner: Outstanding Quality Award - Zagreb 2004
Winner: Jury Prize - San Sebastian Horror and Fantasy Festival 2004
Winner: Espinho Prize - Cinanima 2004
Winner: Best in Category - Cinanima 2004
Short Films Special Jury Mention - Anifest 2005
The third part of the Intolerance trilogy, written and directed by Phil Mulloy,and produced by Germany's Studio Filmbilder.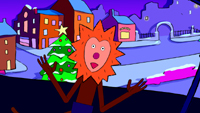 Le Père Noël est sans rancune!
2001 - Dargaud Marina - 30:00
A Christmas special by Dargaud Marina and 2D3D Animations. It was broadcast Christmas 2001 on TF1 in France. Also known as No Hard Feelings Santa Claus!